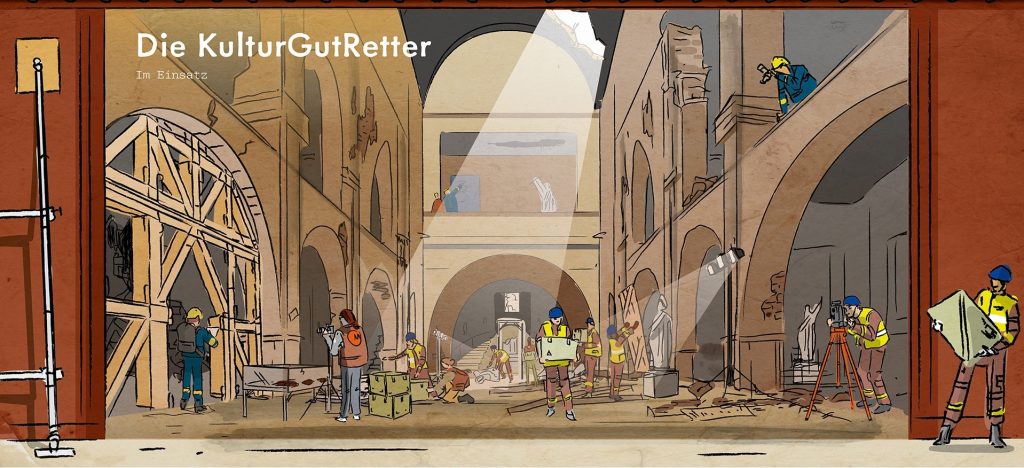 To protect and preserve cultural heritage in all phases of a crisis effectively and sustainably, the essential requirements are well-prepared and rapidly available digital information as well as well-trained and competent decision-makers. Here it is imperative to build on the successes of the Zero Hour project. While we are in a strong position when it comes to crisis prevention and subsequent rehabilitation, there is still no mechanism in Germany that makes it possible to render assistance worldwide when a crisis is at its height. For this reason, a new project was launched in 2019: "KulturGutRetter (KGR) – Cultural Heritage Response Unit".
Partners
DAI and ArcHerNet have discussed how to develop an international mechanism to save and safeguard acutely endangered cultural assets with the Leibniz-Zentrum für Archäologie (LEIZA), the German Federal Agency for Technical relief (THW) and many other partners. The intention behind it is for the expertise that exists in Germany to be concentrated in a team of experts that can act quickly in the event of a crisis to provide assistance in securing, preserving and if need be salvaging objects and buildings.
Tasks and Aims
The first rescue module for documenting, cleaning and boxing mobile cultural heritage, i.e. small objects in museums and at excavations sites, including the drawing up of what are referred to as minimum standard procedures, basic standards and workflows, is currently being developed in a pilot project. The rescue module is being trialled in a joint project with the National Museum in Khartoum. The project further offers assistance in setting up a restoration workshop in Sudan, the first of its kind and a permanently available and effective facility for protecting cultural assets.
The KGR mechanism represents an attempt to utilize the positive experience from previous projects and to improve the demonstrably well-functioning models and formats established by those projects in terms of (more) universal deployability. The mechanism is based upon existing modules such as the development of digital teaching material and the compiling of digital registers of monuments, and combines them with developing remote sensing capability and also with systematic expansion of a network of both full-time and voluntary experts possessing a wide range of skills that are deployable and fit for purpose in the event of a crisis. Regular training courses at home and abroad are among the prime requirements for this. The teaching formats and materials necessary for such courses are currently being developed by means of thoroughly analysing and exploiting existing experience such as that gained in the Iraqi-German Expert Forum on Cultural Heritage (IGEF-CH).
The tasks immediately at hand include designing and implementing further rescue modules relating to mobile and immobile cultural heritage, integrating the mechanism into existing logistical procedures, and testing the latter in concrete projects on the ground.
---
Coordination:
Dr.-Ing. Katja Piesker (Wissenschaftliche Direktorin und Leiterin des Architekturreferats, DAI)
Team:
Christoph Rogalla von Bieberstein (project coordinator), DAI
Dipl.-Ing. Tobias Busen (project coordinator), DAI
Ulla Jaekel (project manager), DAI
Partners:
German Archaeological Institute (DAI)
Leibniz-Zentrum für Archäologie (LEIZA)
Federal Agency for Technical Relief (THW)
Supported by:
Deutscher Bundestag
---
Title image: KulturGutRetter in Action | Illustration: InfografikPro.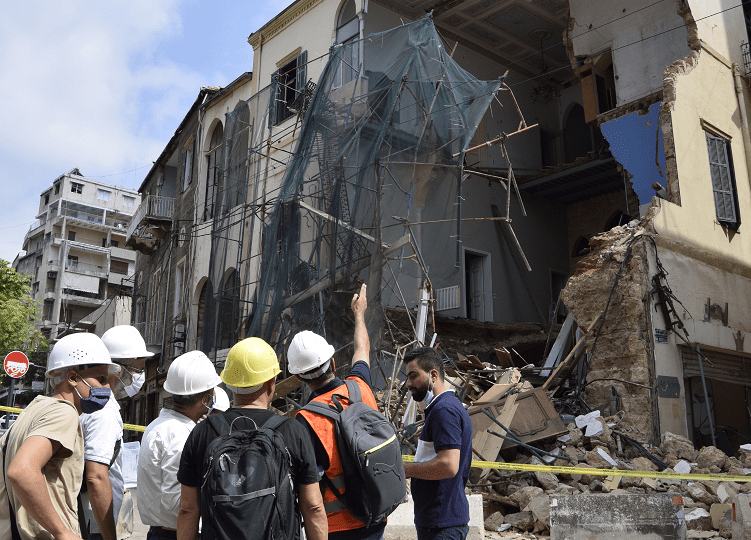 KulturGutRetter – Schnelle Hilfe für Beirut | Interview Prof. Dr. Friederike Fless (DAI)
Experten des Projekts "KulturGutRetter" reisten zusammen mit dem Technischen Hilfswerk nach Beirut. Im Interview mit Deutschlandfunk spricht Prof. Dr. Friederike Fless, Präsidentin des Deutschen Archäologischen Instituts, über den Einsatz der KulturGutRetter. Das Projekt wird gegenwärtig im Rahmen des Archaeological Heritage Network entwickelt.
Das THW – Ein starker Partner für die Kulturgutretter
Die Bundesanstalt Technisches Hilfswerk (THW) ist ein wichtiger Partner bei der Entwicklung der KulturGutRetter und damit bei dem Bemühen, kulturelles Erbe in Krisensituationen zu schützen. Christoph Rogalla von Bieberstein, Koordinator des Projekts "KulturGutRetter – Ein Mechanismus zur schnellen Hilfe von Kulturgut in Krisensituationen" am Deutschen Archäologischen Institut (DAI), hat parallel zu seiner Tätigkeit am DAI eine technische Grundausbildung beim THW absolviert und dadurch einen sehr konkreten Einblick in die Organisation des Kooperationspartners erhalten.